We are pleased to bring you the finest Event and Operator-Assisted conferencing service available today. Our "white glove" service helps you structure and handle your most challenging conference calls with a scalable, tailored solution. Whether your audience is a small team or executives, or thousands of attendees on an earning call, Civicom brings every one together in one effectively planned, managed and executed event.
Operator-Assisted: We'll Help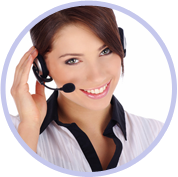 A Civicom operator will provide "high touch" service. Our operator can dial out to your participants, greet them as they join, enable participants to "raise their hand," mute and unmute lines for questions, record the conference and whatever special conferencing need you might have. An operator is especially helpful when you have too many participants to handle on your own. Request an operator-assisted call to avoid the hassle of managing calls yourself and to bring a professional aspect to your call. With a Civicom operator on your call, you can focus on what really matters and not worry about the technical details.
Large Conference Calls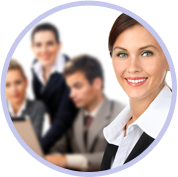 Civicom streamlines large-scale, high-profile conference calls that require special attention. Our dedicated specialists are available to help you plan and execute worry-free conferencing events from start to finish. Supporting thousands of participants, these high profile calls require knowledgeable and professional support to make sure every detail is covered and that every call is executed with precision. During your conference, an operator can control participant access, initiate Q&A sessions and monitor your call to respond immediately to requests. We provide detailed reports on participant activity and polling results.
Pre-Post Conference (Green Room)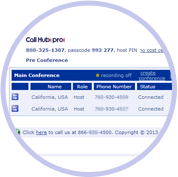 With Civicom's Green Room you can easily segregate the presenters from the conference participants for any pre-conference discussions. While in a pre-conference you can do sound checks with the speakers, verify all speakers are present before starting the call with all the participants, complete any last minute confidential coordination and scripting between the presenters and operator. Post-conference allows the presenter team to debrief privately following the call. Pre and Post conference discussions are kept private and are not recorded for extra confidentiality.
Online Registration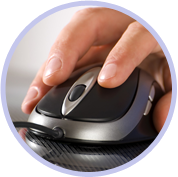 Registration pages are not just for webinars, having your participants register for a high-touch conference call enables you to manage attendee registrations quickly and efficiently while capturing user-defined participant data attributes for easy identification with Q&A, polling and attendance reporting. Civicom will brand the registration page with your company logo and provide you with a URL link which is easily accessible from your web site or email invitation.